Eco Schools Green Flag Award
Eco Schools Green Flag Award
7 February 2019 (by Javed Love (jlove))
Blackmountain Primary school receives Green Flag Award.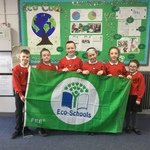 We are very proud to announce that after an inspection from Belfast City Council, Blackmountain Primary School is officially an Eco School and has received the Green Flag Award.
This means we have achieved our goals in the following areas: waste, energy and litter.
Congratulations to all the pupils, and especially to our wonderful Eco Council for their hard work this year.